Instant Pot Barbacoa Tacos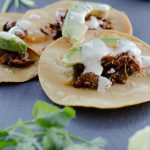 6

to

8

pounds boneless chuck roast, trimmed of excess fat and cut into

2

inch cubes

1 tablespoon

 avocado oil

6

chipotles in adobo with sauce

1

large onion, peeled and roughly chopped

3

cloves garlic, peeled and roughly chopped

1 cup

beef broth

⅔ cup

apple cider vinegar

½ cup

lime juice

2 tablespoons

cumin

2 tablespoons

dried oregano

1 tablespoon

chili powder

1 tablespoon

sea salt

½ teaspoon

ground cloves
In a large blender, add adobo, onion, garlic, vinegar, lime juice, cumin, oreganoo, chili powder, salt, and cloves.
Blend until smooth.
Set aside.
In an instant pot, heat oil on high saute, and brown meat in small batches.
When meat is browned, add sauce from blender.
Add stock, set valve to seal, and cook on high pressure for 50 minutes.
Force release and shred.