Polenta is an often forgotten yet delicious option for a side dish. Not only is it extremely comforting, it's also super easy to make. Unlike risotto, which requires constant stirring, polenta can be left pretty unattended during the cooking process and only needs occasional attention.
I use the Zuni Cafe polenta recipe that is included in The Zuni Cafe Cookbook, A Compendium of Recipes and Cooking Lessons from San Francisco's Beloved Restaurant by Judy Rodgers, the founder of Zuni.   Zuni is an institution here in the Bay Area and the word beloved in the title is not an overstatement but perfectly sums up the sentiment towards this great jewel of a restaurant. It is a place full of happy memories for many and I try to go at least once a year. I always order the polenta when I do.
The story behind the Zuni polenta also speaks to me. In her intro to the recipe Judy says:
"I credit our simple five-dollar bowl of warm polenta with keeping Zuni alive through the first days after the 1980 earthquake – business was terrible all over town, but we stayed pretty busy, selling many more bowls than usual. Inexpensive, reliable, and comforting, a well-seasoned bowl of polenta is satisfying by itself, but, soft, grilled, roasted, or fried, it also finds its way into dozens of dishes at the restaurant."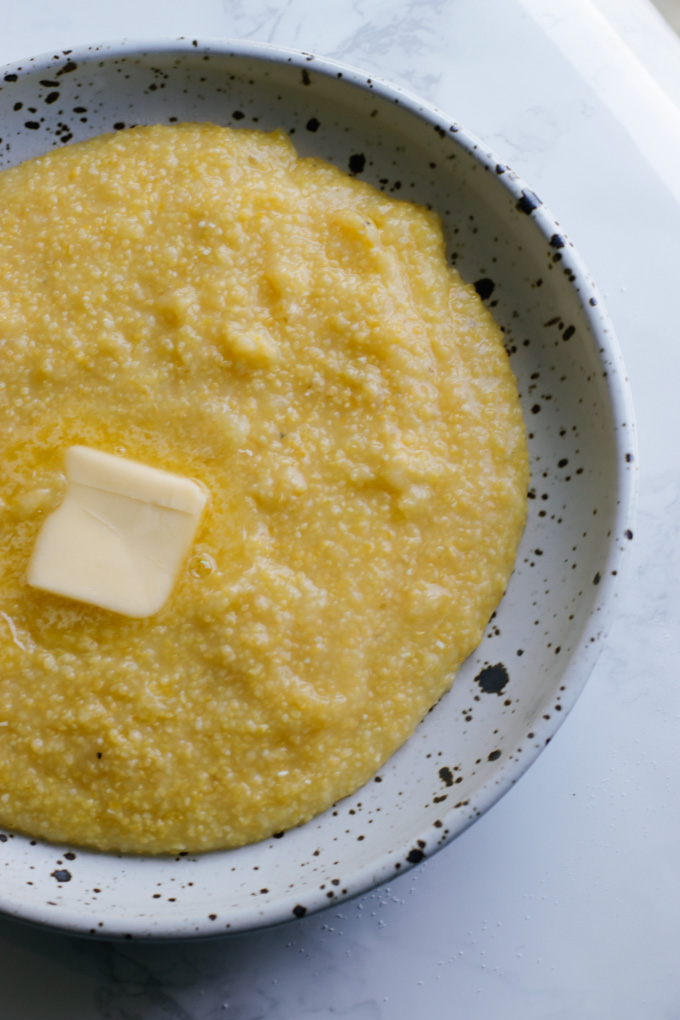 Print
Creamy and Hearty Hands-free Polenta
An endlessly versatile, comforting and delicious recipe for creamy polenta, which pairs well with a multitude of dishes. Adapted from the Zuni Cafe Cookbook.
Author:
Prep Time:

5 minutes

Cook Time:

1 hour

Total Time:

1 hour 5 minutes

Yield:

4

to

6

servings

1

x
5

C water

1

C coarsely ground polenta
About

2

t salt, or to tast
Unsalted butter (optional)
Instructions
Bring the water to a simmer in a 2-quart saucepan.
Whisk in the polenta and stir until the water returns to a simmer.
Reduce the heat until the polenta only bubbles and sputters occasionally.
Cook uncovered for about 1 hour, stirring as needed, until thick but still fluid.
If the polenta becomes stiff, add a trickle of water.
Add salt and a generous dab of butter.
Transfer the polenta to a double boiler set over simmering water, to rest for at least 30 minutes (or up to you a few hours)
Wrap the lid tightly in plastic wrap and cover the polenta to prevent the polenta from developing a skin.
Notes
I don't always rest the polenta and often serve immediately. Either method I've found delicious.