This time last year my husband and I were in France on a three-week adventure. I had to work the first week and was attending the Cannes Festival of Creativity — an amazing experience and an incredible way to conduct business. My hubby explored Cannes and lived his best life. I benefitted, however, because he'd identify great places for us to eat during his wanderings.
One of our outings by boat was to St. Tropez where we had an unforgettable lunch in St. Tropez at Le Club 55 (pronounced cinquante-cinq). We were seated in their beautiful outdoor dining area which was buzzing with the who's who in the advertising world. There were also celebrity sightings to be had — including a very tan Rob Lowe and James Faulkner.
The real star, however, was the food. As soon as we were seated a heaping butcher board of veggies was placed on the table. It was an awesome display and my husband was convinced that it was a centerpiece. The veggies were whole including whole head of cauliflower, tomatoes, mushrooms, artichokes, spring onions, and bunches of radishes with greens and all served with hard boiled eggs and an anchovy dip called anchoïade, which really made the dish!
What an amazing way to start a meal and unlike anything I'd ever had. With warm weather here this is a great way to eat your veggies and savor the abundance of summer.
Print
Crudités a la Club 55 in St. Tropez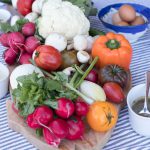 Anchovy Dip (Anchoïade)
A jar of whole anchovies, in olive oil

4

garlic cloves, crushed and chopped fine
Fresh Herbes de Provence, finely chopped
Cup extra-virgin olive oil
Aged red-wine vinegar
Freshly ground pepper
Splash of water
Optional additions: orange juice, honey, capers
Your favorite veggies presented whole including:
Orange Bell Pepper
Radishes
Endive
Whole head of cauliflower
Green Onions
Button mushrooms

4

boiled eggs
Instructions
Boil one egg for each of your guests.
Prepare the anchovy paste.
Drain and coarsely chop the anchovies.
Crush the garlic and combine with the anchovies and herbs in a mortar or pulse with a food processor until pureed.
Transfer the mixture to a bowl and stir in the olive oil, a few tablespoons at a time, until well incorporated.
Stir in the vinegar, season with pepper.
Arrange your veggie platter with your favorite vegetables served whole for maximum drama. Serve with eggs and the anchovy paste.