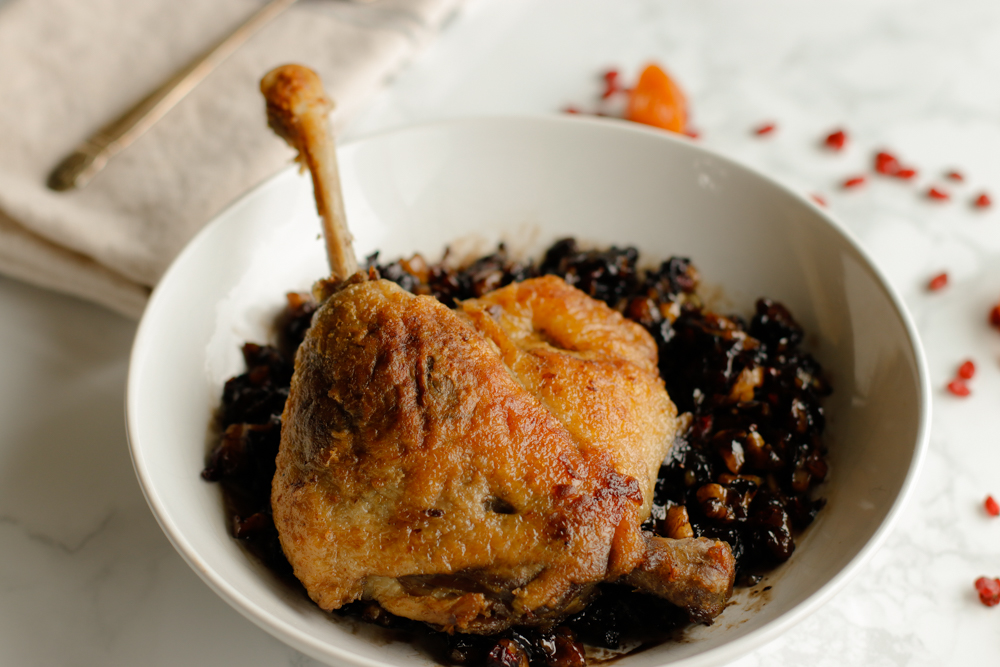 While we love really stretching our cooking skills, we also don't want to lose our love of entertaining by feeling like we have to continually create elaborate meals. The point for us is to get together with our friends and family, and as much as we pride ourselves on pulling off ambitious menus, we also get a lot of satisfaction by serving a very sophisticated dinner that takes less than 30-minutes to make.
The key, as you've heard us say before, is having some key staples always on hand — and one of those for us is duck confit. It is always in our freezer thanks to D'Artagnan.
We decided to serve it to neighbors recently and they were a hit! This time around we were inspired by the start of Nowruz, the Persian New Year that ushers in spring, and decided to serve the duck with a walnut-pomegranate molasses chutney that we adapted from Naomi Duguid's much lauded cookbook, Taste of Persia.
The tangy chutney is jewel-like and it's not surprising considering the ingredients, all of which can be found at your local Middle Eastern market or on Amazon. First there's the pomegranate syrup, which has the most gorgeous, dark purplish color.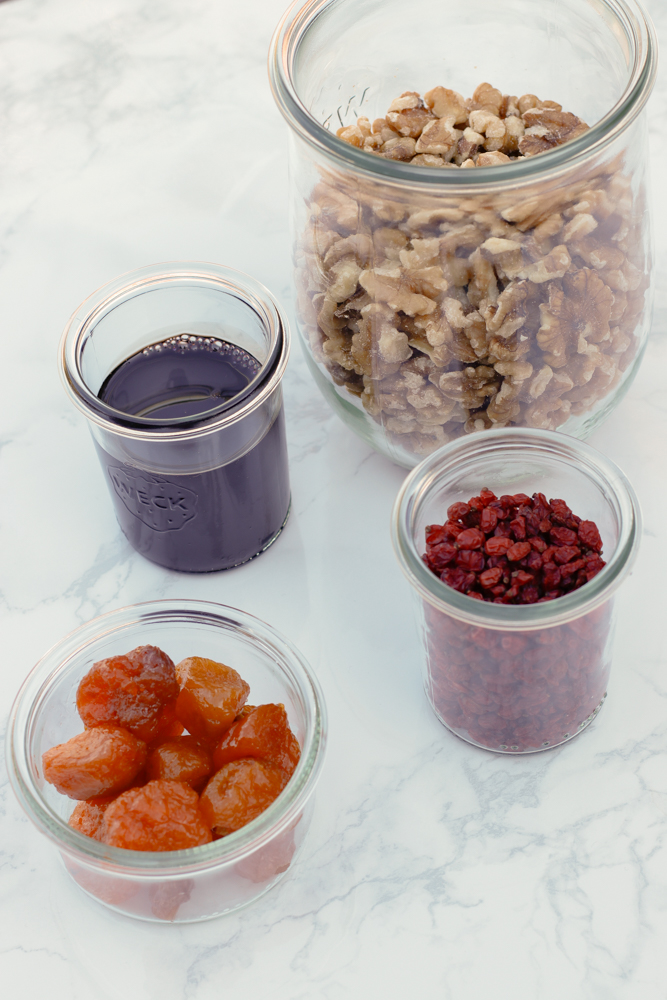 Then there are the barberries and golden plums, which look like little gems. This chutney takes all of 15 minutes to prepare and can be made a couple of days ahead and adds a delicious tang to any poultry dish.
Now all you have to do is give the duck a good sear, just enough to crisp up the skin and you're ready to eat. Throw together a salad and a scrumptious and very sophisticated dinner is served!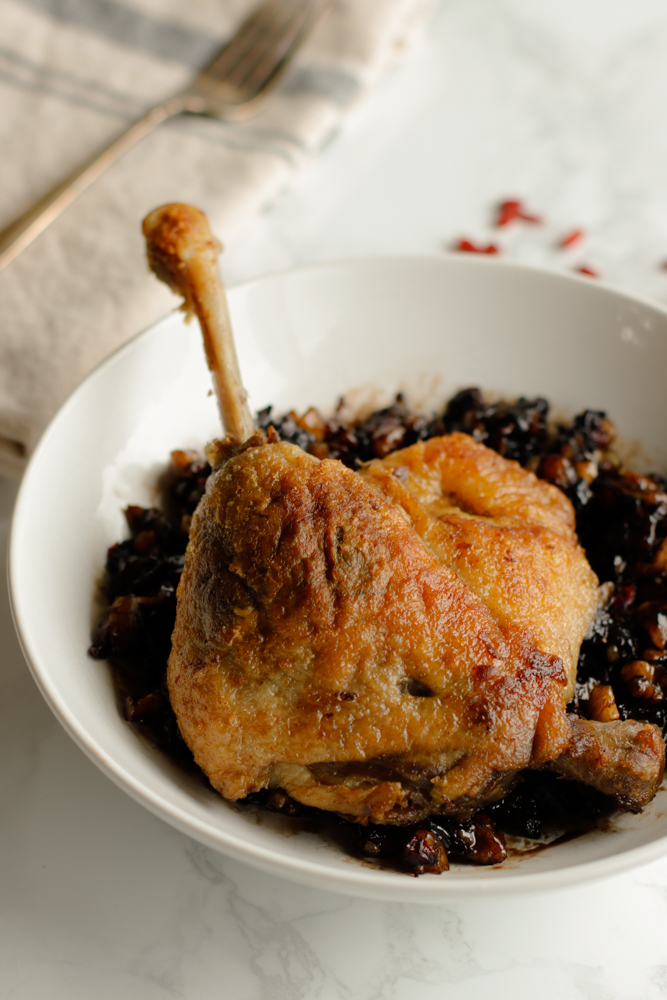 Print
30-minute dinner: Duck Confit with Pomegranate-Walnut Chutney
If you are looking for a sophisticated yet super-quick dinner party meal, duck confit is the dish for you. Endlessly versatile, your fridge should never be without duck confit legs. In this incarnation, we paired the duck with a crunchy and tangy walnut pomegranate "stuffing" that complements the
Author:
Prep Time:

15

Cook Time:

15

Total Time:

30 minutes

Category:

Dinner
For the duck:
For the stuffing
2

T avocado oil, ghee or extra-virgin olive oil

1/2

C chopped onions

1/2

C walnuts or walnut pieces, coarsely chopped

1/4

C barberries, soaked in warm water for

10

minutes and drained

1/4

C coarsely chopped dried golden plums, dried sour cherries or fresh or frozen cranberries

1/4

C pomegranate molasses
Instructions
First make the duck.
Heat the oil or ghee in a large heavy skillet over medium-high heat.
Add the onions and cook until golden. Add the walnuts and lower the heat to medium. Cook stirring for a few minutes.
Add the barberries and other fruit and the pomegranate molasses. reduce the heat to low, and cook for 5 minutes, stirring occasionally.
Now let's make the duck:
Get a sauté pan screaming hot.
When the pan is hot, start by sautéing the non-skin-side-down of the duck leg until golden, about 3 minutes.
Now flip the duck leg and sauté the skin-side-down and get it nice and crispy. This will take between 3-5 minutes.
Serve immediately accompanied with the pomegranate walnut chutney.
Notes
Duck legs are fatty and will splatter, so be careful when searing. We highly recommend using a splatter screen.