Serving up an overflowing sheet pan of gorgeous baked harissa chicken with a delicious mix of potatoes and leeks always makes my guests smile. It also makes me smile as a hostess since it's such an easy meal to prepare but packs a huge flavor punch.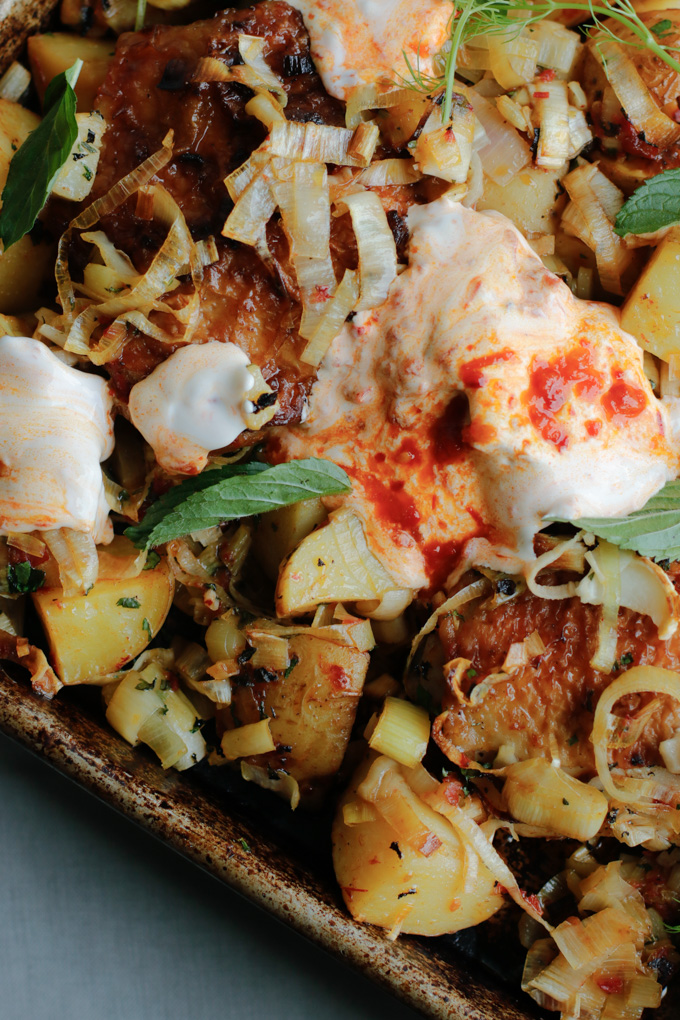 The recipe was inspired by Melissa Clark's new book, Dinner: Changing the Game — who is absolutely one of my favorite food writers! Her new book is such a creative and modern take to cooking and celebrates how all of our American pantries have become a lot more international. She advocates stocking up your pantry with great global condiments so it's easy to pull together creative and delicious meals that are low-fuss. My kind of cooking and entertaining!
It's no surprise that I gravitated to this recipe as it relies on one of my favorite kitchen essentials, the humble yet infinitely versatile sheet pan. Talk about a kitchen essential for whipping up great meals. It also uses one of my favorite condiments — harissa, a North African hot sauce that is always in my fridge. For this recipe I used the Mina harissa, which is very tasty and would get my mom's seal of approval.
The meal started with Simple Asparagus Soup. Then I served the harissa chicken with a simple green salad and Roasted Carrots with Walnuts, Feta and Dill. A perfect meal!
We made this meal for our lovely friends, Debra and Phil and they completely loved it. Debra texted me later that night asking for the recipe and so Debra, here it is!
Print
Sheet Pan Harissa Chicken with Potatoes, Leeks and Yogurt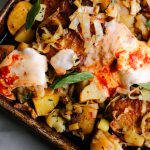 Adapted from Melissa Clark's Dinner: Changing the Game.
1 1/2

lbs bone-in, skin-on chicken thighs

1 1/4

lbs Yukon Gold potatoes, cut into

1

-inch chunks

3

t salt

3/4

t freshly ground black pepper

4

T harissa

1/2

t ground cumin

4 1/2

T extra-virgin olive oil

2

leeks, white and light green portion, halved lengthwise, cleaned and thinly sliced into half-moons

1/2

t grated lemon zest

1/2

C plain, whole-milk yogurt

2

T harissa

1

C mixed fresh herbs like dill, parsley, mint, and/or cilantro leaves
Fresh lemon juice, as needed
Instructions
Mix the chicken and potatoes in a large bowl.
Season with 2 1/2 t of the salt and 1/2 t of the pepper.
In a small bowl, whisk together 2 T of the harissa, cumin, and 3 T of the olive oil.
Pour this mixture over the chicken and potatoes, and toss to combine.
Let it stand at room temperature for 30 minutes.
In a medium bowl, combine the leeks, lemon zest, 1/4 t of the salt, and the remaining 1 1/2 T olive oil and set leeks aside.
Heat the oven to 425 F.
Arrange the chicken and potatoes in a single layer on a large rimmed baking sheet, and roast for 20 minutes.
Then toss the potatoes lightly, and scatter the leeks over the baking sheet.
Roast until the chicken is cooked through and everything is golden and slightly crisped, 20 to 25 minutes longer.
While the chicken bakes, make the harissa yogurt. In a small bowl, combine yogurt, remaining two tablespoons of harissa, 1/4 teaspoon salt and 1/4 teaspoon pepper.
Spoon the yogurt over the chicken and vegetables in the baking sheet. Scatter the herbs over the yogurt, drizzle some olive oil and lemon juice over the top, and serve.