There's nothing like a juicy grilled burger that screams summer barbecues and cookouts, whether for the 4th of July or any other summer grilling opp! This juicy and flavorful version, inspired by Umami Burger's Hatch Burger is amazing.
Umami Burger is a gourmet burger chain here in the West Coast, that now also has outlets in Chicago and NYC.  Umami burgers pack a flavor punch and I wanted to try and recreate one of their recipes.  I didn't have to search far and actually found this recipe in Sunset Magazine, where they had a great hack for achieving the flavor profile that Umami burgers gets through their "Umami Dust" and "Umami Master Sauce."  Sunset's awesome and totally simple solution for achieving that extra bit of umami — soy sauce!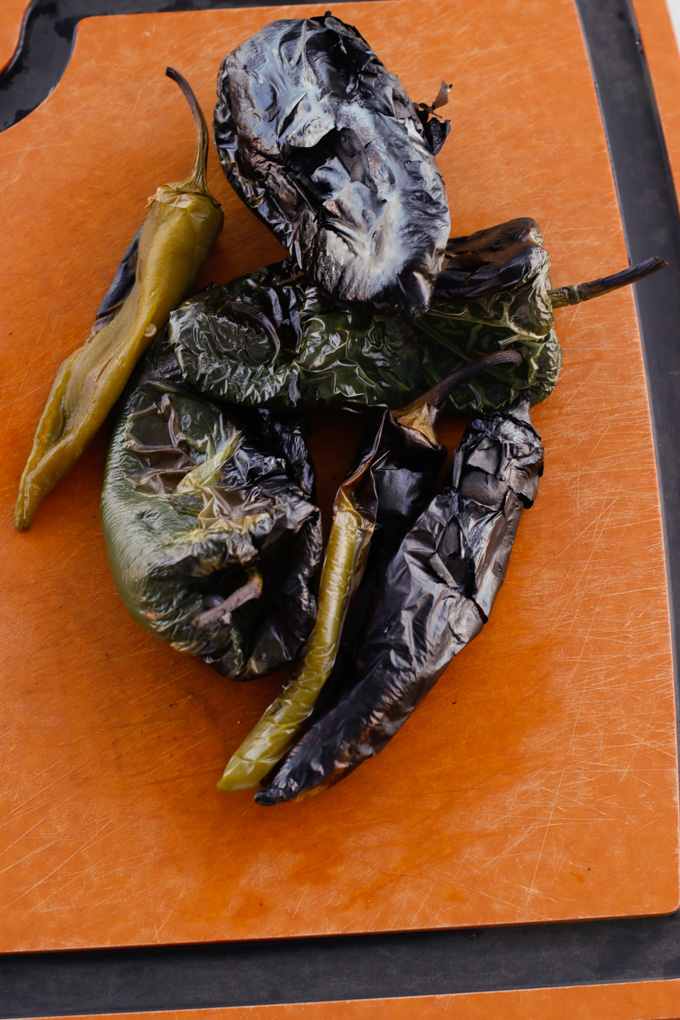 The key to the hatch burger is the roasted peppers that are added to the top. They add a gorgeous Southwestern flavor that had my Texan of a husband raving — and he's not much of a burger fan. My 8-year old niece was also smitten and asked to take leftovers home — a high compliment.  If you'd like to give your burgers some extra pizzaz this summer, then this is the recipe for you!
Print
Hatch Burger
3

Anaheim chiles

3

poblano chiles

3/4 teaspoon

kosher salt, divided

1/2 cup

mayonnaise

1 1/2

pounds ground beef (80% lean)

4

Brioche burger buns

4

to

6

tsp. soy sauce

4

slices Munster cheese
Instructions
Broil chiles on a rimmed baking sheet, turning as needed, until blackened on all sides, about 10 minutes. Let cool.
Peel, then cut open and remove stem and seeds. Finely chop chiles. Put in a medium bowl and stir in 1/4 tsp. salt. Mix mayonnaise with garlic in another medium bowl.
Heat a grill or griddle to medium (350° to 450°).
Mix beef with remaining 1/2 tsp. salt in a large bowl until just combined.
Divide into 4 portions and form each into a 1/2-in.-thick patty and make a slight dent in the center.
Oil cooking grate or griddle with a wad of oiled paper towels.
Grill burgers, turning once and sprinkling with about 1/2 tsp. soy sauce on each side, until done the way you like, 7 to 8 minutes for medium.
During the last minute, lay a cheese slice on each burger to melt it.
Meanwhile, cut your brioche burger buns and toast on grill or griddle, about 2 minutes.