What's more refreshing than a chilled soup during the hot summer months? The king of chilled soups in my mind is gazpacho, which is a perfect way to showcase tomatoes as they reach the height of their season. During our trip to Spain in 2011 we ate gazpacho almost everyday of our three week visit — it was just that good and varied.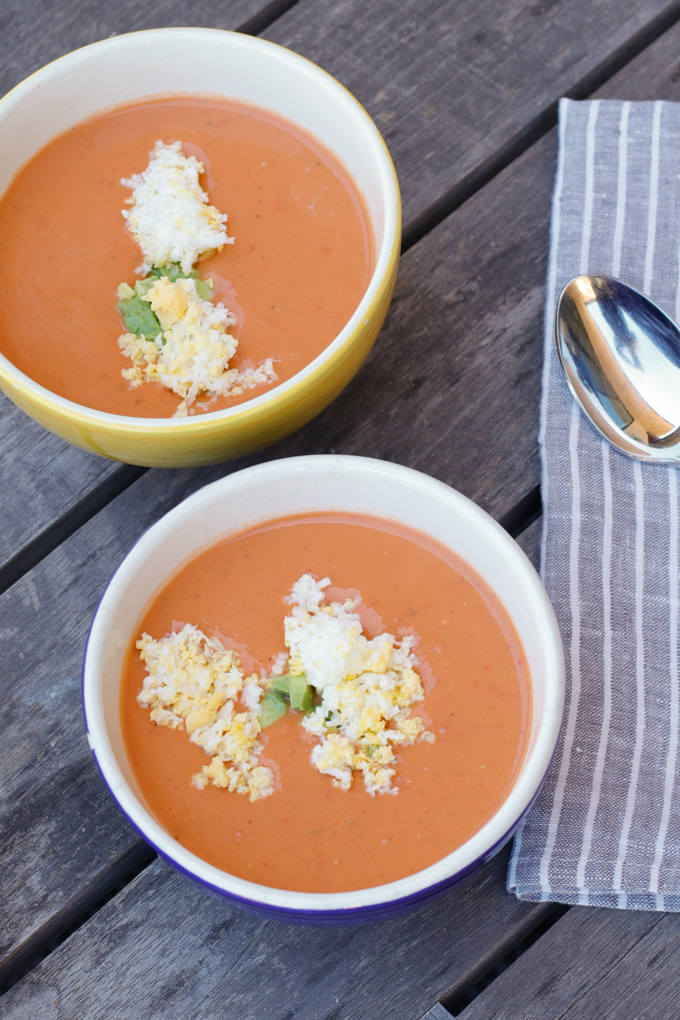 I've been thinking a lot about our trip to Spain these days and have been craving a return trip. Even though we spent three weeks traveling around Catalonia and Andalusia, we didn't even make a dent in seeing — and tasting — all that Spain has to offer.
To allay my cravings to jump on a plane straight for Madrid, I've opted for a Spanish inspired summer tapas dinner party – and of course gazpacho was on the menu.
Gazpacho plays a key role in the famous Spanish film Women on The Verge of a Nervous Breakdown, which is the dark comedy that made Pedro Almodóvar an international sensation. The recipe we use is the recipe shared in the film — minus the sleeping pills, of course. Over the years my husband and I have tried different gazpacho recipes and always come back to this one. We've stopped experimenting. 🙂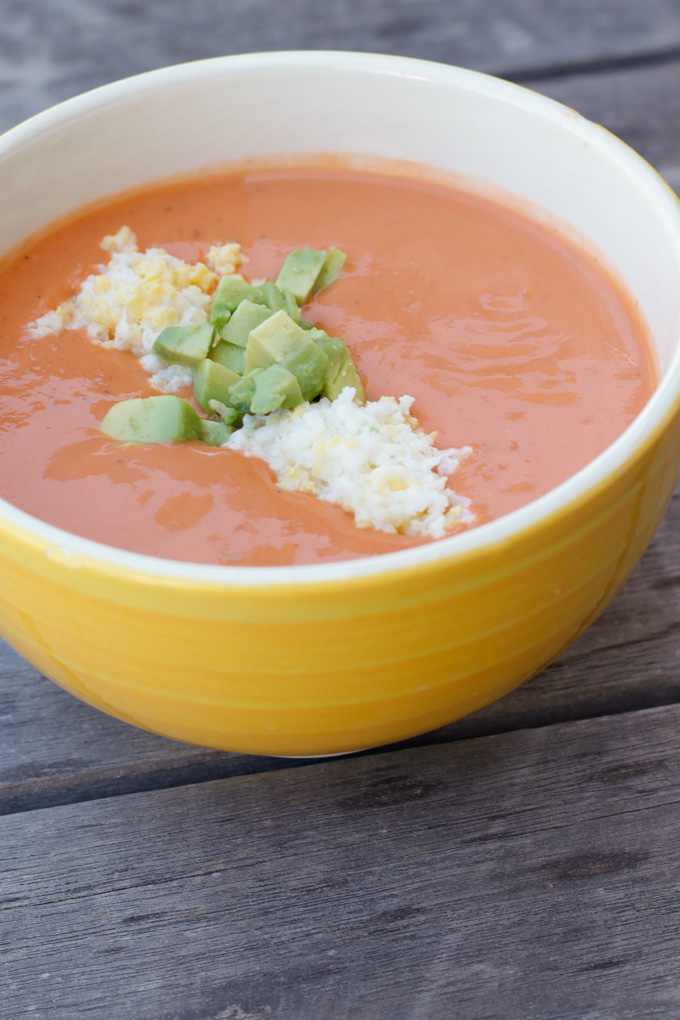 Ripe, flavorful tomatoes are key for a tasty gazpacho. Without good tomatoes your soup will just be flat. Try to find the juiciest, ripest tomatoes you can get your hands on. Luckily right now our farmers market is bursting with good tomatoes — and I hope yours is too! The other key ingredient to good gazpacho is good extra virgin olive oil. I like an olive oil that's made with Spanish olives, like Arbequina, which is also grown here in California. I would avoid peppery olive oils, which could lend a bitter flavor when paired with the peppers in the gazpacho.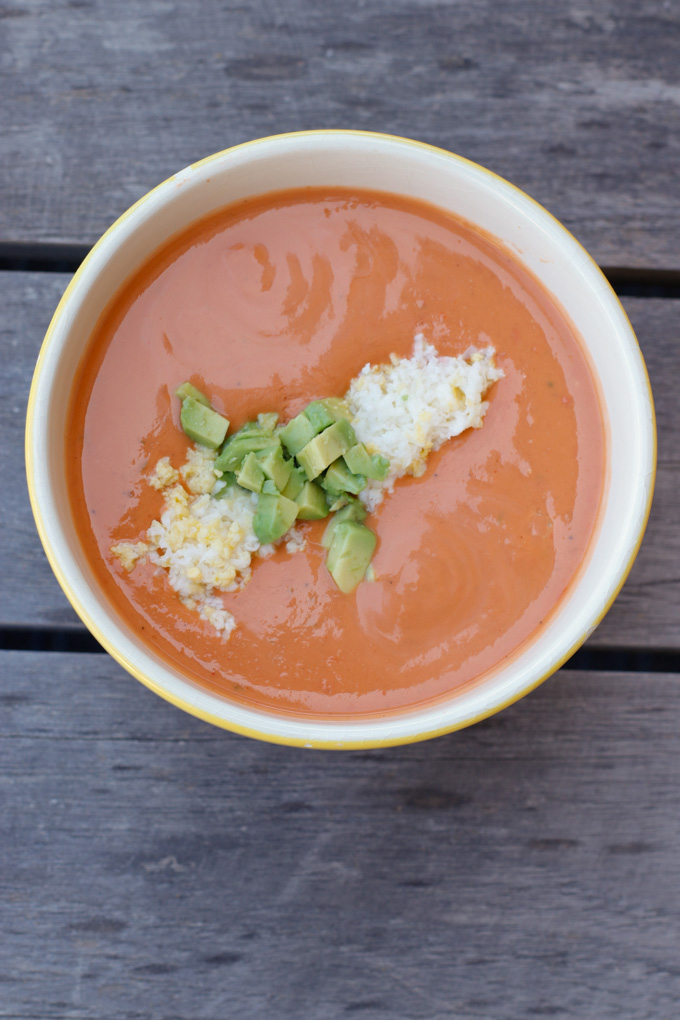 We always double the recipe so that we have plenty of leftovers and then make a meal of the gazpacho for the next few days by adding grated eggs and avocado. Now that's my kind of summer meal.
Print
Gazpacho A La Pedro Almodóvar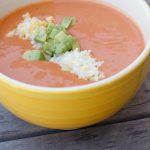 2

thick slices of day-old country bread, crusts removed and cut into small pieces

1 1/2

to

2

pounds ripe, sweet tomatoes, quartered

2 tablespoons

aged sherry vinegar

1/2

small Spanish onion, peeled, chopped, soaked in water and drained

1/2 cup

good quality extra-virgin olive oil (look for a Spanish variety)

1/4 cup

water

2

small garlic cloves, minced
Pinch of ground cumin
Pinch of cayenne pepper
Sea salt

1

firm medium-sized cucumber, peeled and diced

1

small red bell pepper, cored, seeded and diced

1

small green bell pepper, cored, seeded and diced
Instructions
1. Place the bread in a large bowl, drizzle with some olive oil and squeeze out juice from one tomato over it. Add 1 teaspoon of sherry vinegar and mix it well with your fingers. Set aside, for at least 10 minutes.
2. Chop the onions and soak in water to remove some of the sharpness. Soak for 10 minutes then drain.
2. Transfer the bread mixture to a food processor and add minced garlic, cumin, cayenne pepper (if using) and salt. Process until very smooth.
3. Add half of the tomatoes, bell peppers, cucumbers, onions, generous pinch of salt and 1/4 cup of olive oil; process until smooth. Transfer to a large bowl and set aside. Repeat with another batch of vegetables and olive oil.
4. Add some of the remaining sherry vinegar, salt and spring water. Taste and adjust amounts of each to your liking.
5. Chill for at least 3 hours.
To serve:
Divide between chilled soup bowls and prepare small dishes of chopped peppers, tomatoes, avocados and boiled eggs for garnish. Add side dish of olive oil for drizzling and serve with grilled bread.