Spinach and feta filo pie — aka spanakopita — makes regular appearances on our table. I serve it as an appetizer, as a side dish and sometimes I even feature it as a main. No matter its role in the meal, spanakopita is always a favorite.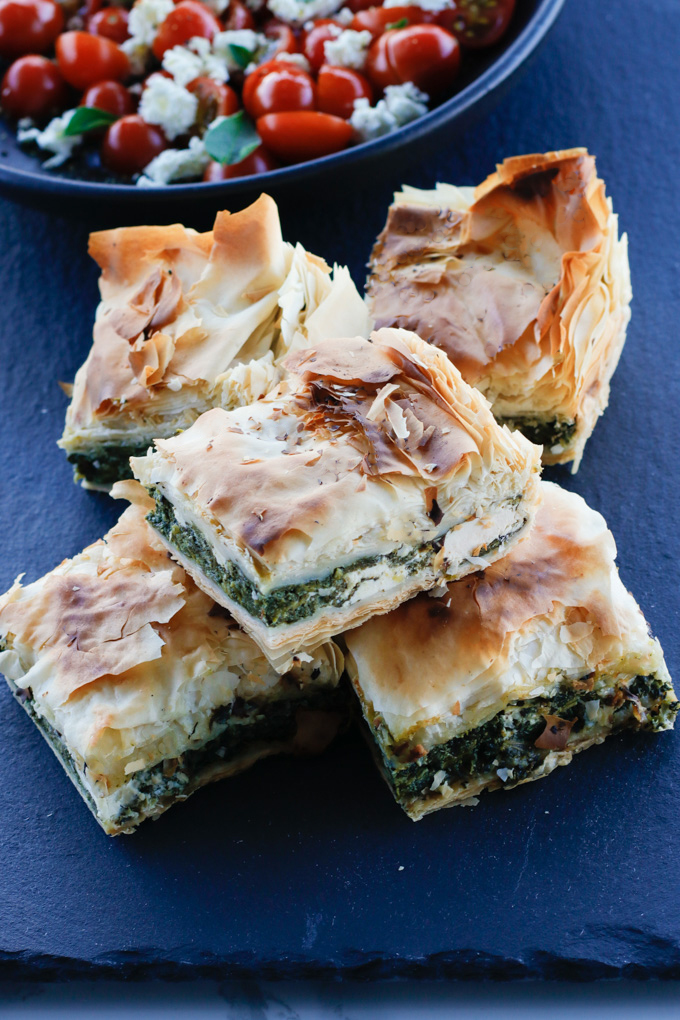 This particular version of spanakopita has a special place in my heart and has become my family's standard thanks to my dad. My dad used to eat out a lot on business and he's frequented some of the world's great restaurants. When he'd have a particularly enjoyable meal he'd buy the cookbook from the restaurant if available and come home and highlight his favorite dishes — which he'd encourage us to make. My dad loves cookbooks. At the time, I would have rather gone to the restaurant than cook — I was pretty adamant about not learning how to cook or do anything else that was "expected." After grad school that changed with a move far from home that found me craving my mom's food, and so an interest in cooking kicked-in, which over time has become a full-blown obsession!
Dad came across this spinach pie when he was reading the New York Times Cookbook, the classic tome by Craig Claiborne. He and my mom made it and from then on, when we had guests, one of us kids was in charge of making it. They made one modification to the recipe that makes it extra creamy and delicious — they added a bit of cream cheese, which I never skip. The irony here is my family is part-Greek and I still find it hilarious that our secret Greek family recipe originated from a classic American cookbook. But shhh….don't tell anyone. Ah, the beauty of America!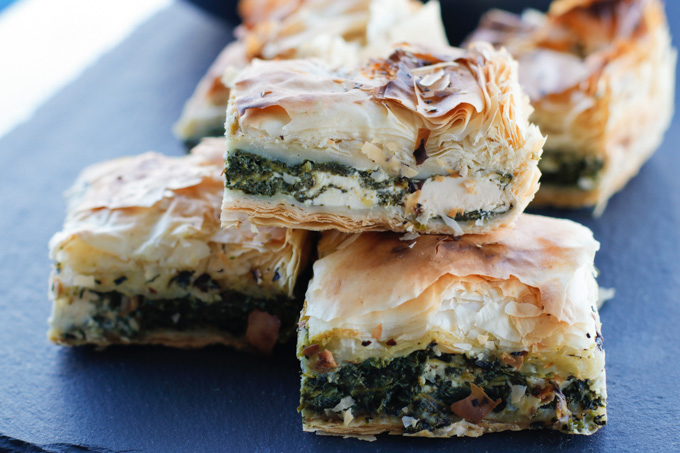 Now, I know a lot of people are intimidated by filo dough, and for sure, it can be finicky. It's much easier to handle when its fresh, and will stay whole rather than crumble on you. I keep packs of filo in the freezer. The day I want to use it, I'll take a pack out of the freezer a couple of hours ahead to thaw. Most filo dough sheets are really long so I cut the filo in half and then immediately return the half I'm not working with to an airtight bag. To keep the half I'm working with moist, I cover it with a kitchen towel and take one sheet at a time to make my layers.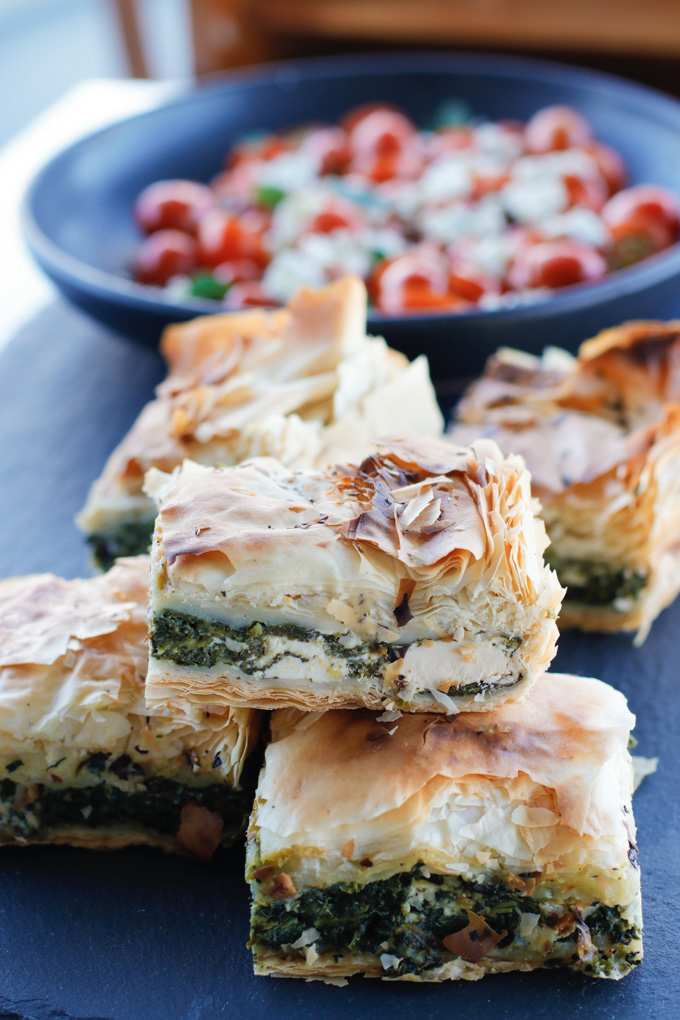 Other than having to fiddle a bit with the filo dough, this recipe is quite easy to make. It's not a quick recipe, however, but is well worth the time and gets faster to make with practice.
Print
Greek Spinach and Feta Filo Pie
1

package filo dough

2

lbs frozen or fresh spinach, washed and chopped

3

T olive oil

1 1/2

C finely chopped onions

4

T butter

5

eggs, beaten

1/2

C chopped scallions, green parts included

1/2

lb feta cheese, chopped

4 oz

cream cheese

1/2

C chopped dill

1/4

C finely chopped parsley
salt and freshly ground pepper to taste

1

sticks sweet butter, melted
Instructions
Remove the filo from the freezer at least 3 hours before using.
Cook down the spinach in the olive oil until completed thawed / wilted. Drain very well and set aside.
Brown the onions in the butter.
Mix the onions, eggs, scallions, cheeses, dill and parsley.
Add the spinach and season with salt and pepper.
Preheat the oven to 350 degrees Fahrenheit.
Butter a 3.63 x 17.75 x 12.75 in baking dish (like a 3-quart Pyrex Baking Dish or this Crate & Barrel classic)
Cut the filo in half and then immediately return the half that you're not working with to an airtight bag.
Place one sheet of filo in the pan and brush with melted butter.
Repeat with the remaining sheets of the filo dough you are working with, placing each sheet on top of the last, brushing each layer with butter.
Add the spinach-cheese mixture and spread it evenly across the baking sheet.
Repeat the filo dough process with the remaining sheets of filo.
With a sharp knife, cut the filo pie into 2 inch squares. It's much easier to cut before baking.
Bake for 1 hour, or until golden brown and very puffy.
Notes
It's important to keep the filo dough from drying out.  Place the portion of the dough you are no working with in an airtight bag. Keep the filo dough that you are working with under a towel and take one sheet at a time to make the layers of your filo pie.