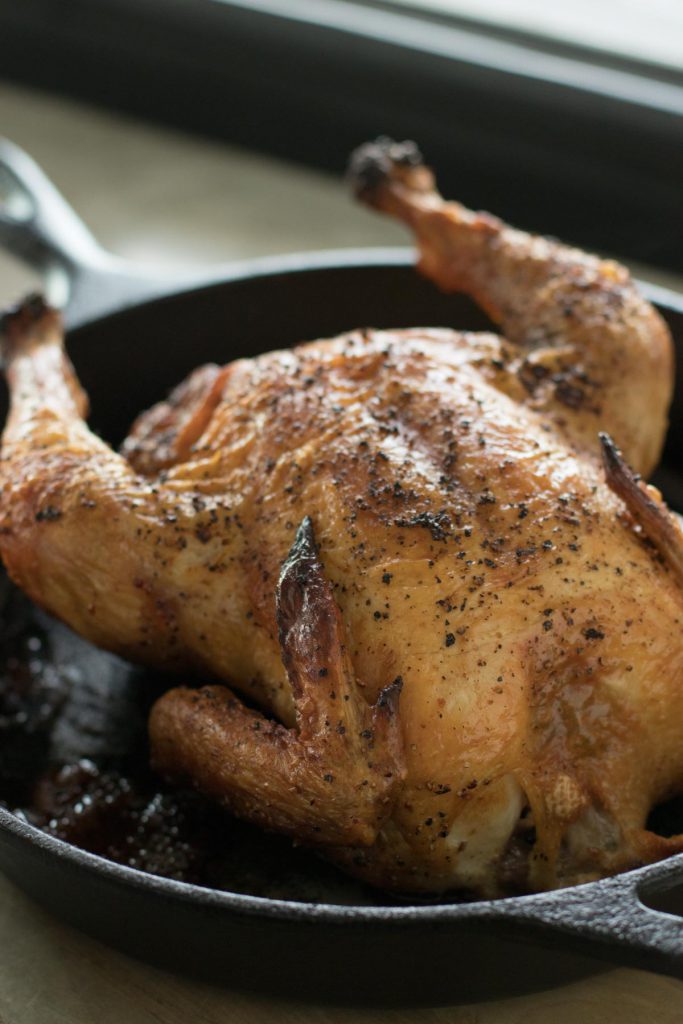 I know that I've been quiet for quite a while. I let work overtake everything — which is a pathetic excuse but the truth. But as this pandemic continues, I am trying to intentionally create/seek out joy and hope and this blog is that for me. So until I can share my table with you again, let me share the food that has been nourishing and comforting us.
Like a lot of you, we've been cooking up a storm and making our favorites. Enter a great roast chicken — it never gets old and I can happily eat it once a week. It's such an easy and satisfying way to put an impressive dinner on the table. I swear by this recipe inspired by Melissa Clark in the New York Times. The secret is prepping the chicken night before — which takes 5 minutes — and allowing it to dry overnight in the fridge. That little bit of prep makes for awesomely crispy skin. Roast some veggies as an accompaniment and toss a salad, and voila, dinner is served.
Print
Salt & Pepper Roast Chicken
1 whole chicken, patted dry (3 1/12 lb – 4 lb)
2 1/2 t kosher salt
2 t black pepper
Small bunch of mixed herbs (rosemary, thyme and sage) – optional
Instructions
Season the chicken inside and out with salt and pepper.  Refrigerate the chicken, uncovered, for at least an hour, or ideally overnight.
Take the chicken out of the fridge at least an hour ahead to get it to room temperature.
Heat oven to 450 degrees. Place chicken breast-side up in an iron skillet or roasting pan. If using, stuff the cavity with herbs. 
Roast the chicken for 50 minutes, then baste it with pan juices. Continue roasting until chicken's juices run clear when the skin is pierced with a knife or when a meat or instant-read thermometer reads between 160 -165 degrees at the thickest part of the thigh but not touching bone, which should take about 5 to 10 minutes longer.
Let the chicken rest for 10 minutes before carving.