Strawberries don't need much when they're at their height and we're making the most of their season. Of course we bought too many and they're ripening faster than we can eat them, so I decided to make a simple strawberry compote. Compote is a fancy term for cooking fruit in syrup. For my syrup I used pomegranate concentrate for added tang and coconut nectar as the sweetener. I then served this strawberry yumminess with a couple of dollops of crème fraîche and topped it all with pistachios, and voilà, just like that I had an impressive and very sophisticated dessert that couldn't have been easier to pull together.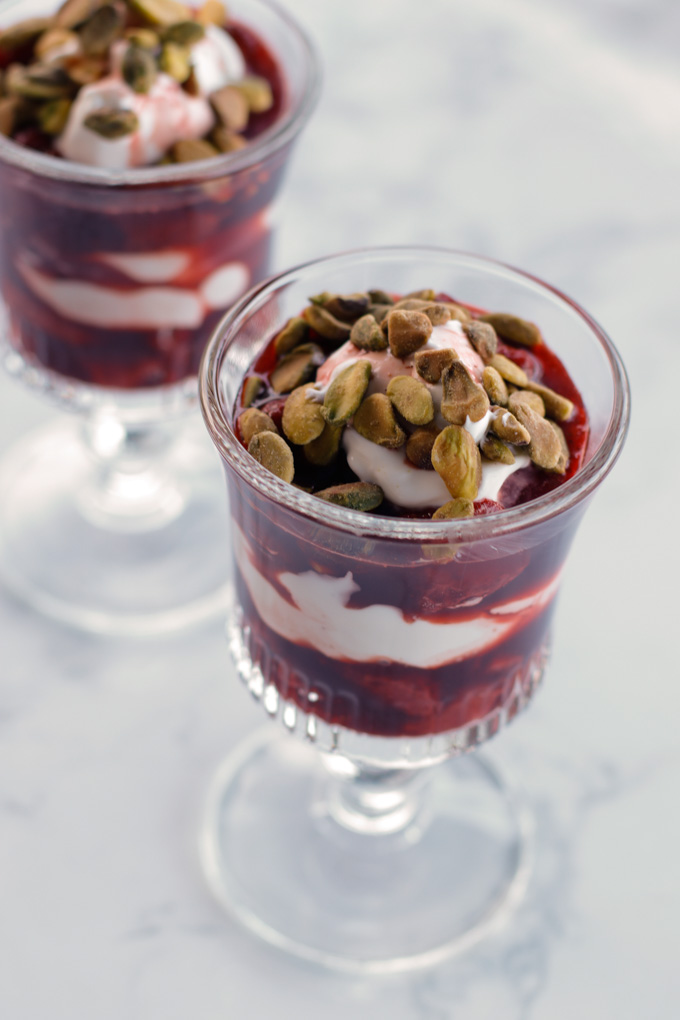 This recipe was actually inspired by one of Yotam Ottolenghi's recipes in the Guardian, where he highlights three easy puddings — all of which sound amazing and are now on my list to try. The dessert that I used as a jumping off point consisted of roasted rhubarb with lavender and crème fraîche — which sounds like a fabulous flavor combo. Since I didn't have any rhubarb on hand, I thought I'd try the recipe with strawberries and used flavors that I thought would work well together. I was not disappointed with my little experiment!
I stewed the strawberries with equal parts of pomegranate concentrate and coconut nectar and ended up with a tangy, slightly sweet compote that can be used in a million ways. If rather than pomegranate concentrate you have pomegranate syrup or pomegranate molasses — which are sweetened — then  use less of the coconut nectar. I plan on adding this lovely compote to my yogurt and granola for a great breakfast and using it as a topping for pound cake for a strawberry shortcake with a twist.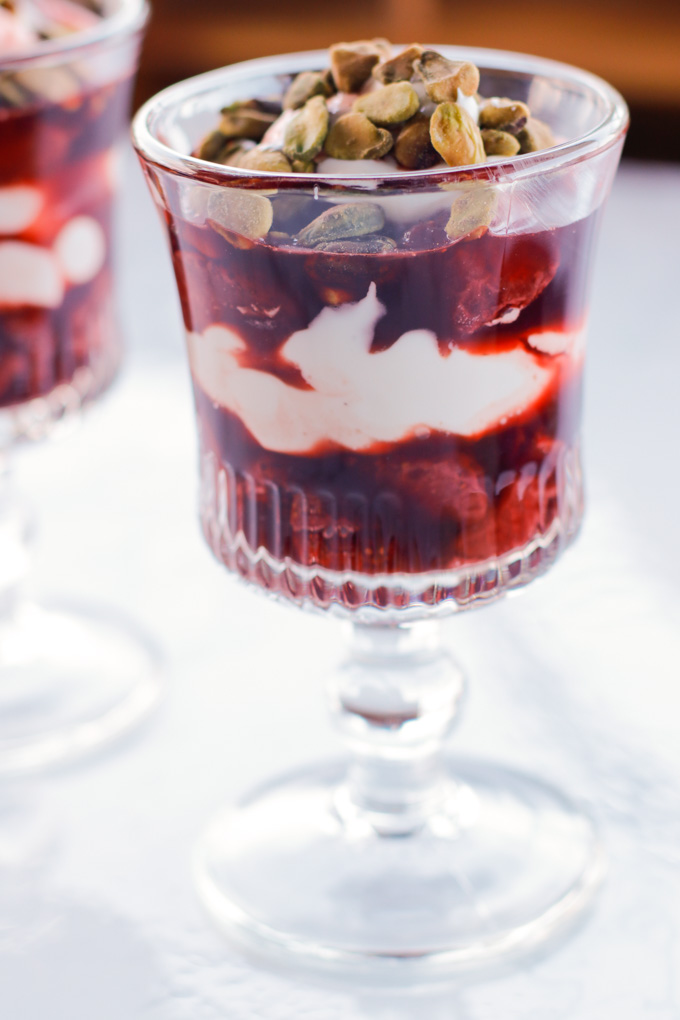 If you're looking for a delicious and simple way to use up all of your strawberries, then give this easy recipe a try!
Print
Strawberries and Pomegranate Molasses Compote with Crème Fraîche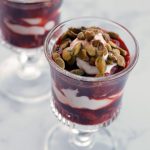 2 pints

strawberries, hulled and halved

4

T pomegranate molasses

4

T coconut nectar

8

T crème fraîche

1/2

C pistachios, shelled
Instructions
Over medium heat in a medium sized skillet, combine the strawberries, pomegranate concentrate and coconut nectar.
Give the ingredients a good stir and bring to a simmer.
Simmer gently for 5 minutes or until the fruit starts to soften and the sauce reduces slightly.
Give the compote a taste and add more nectar if it's too tart.
Remove from heat and set the compote aside to cool.
Once the compote has cooled, you are ready to assemble.
In 4 individual serving bowls or glasses, add a generous spoonful of strawberry compote as the bottom layer.
Then add a tablespoon of crème fraîche.
Follow with another layer of compote.
Top with another tablespoon of crème fraîche.
Finish each with a sprinkle of pistachios.
Notes
The compote will keep for up to a week in the refrigerator and can be made a couple of days ahead.